ML
Strategy Product
Dear Client,
MidLincoln Research is pleased to offer you a subscription to our premium Strategy Package. It includes over 50 reports published during the month on a daily, weekly or monthly basis.
Why Subscribing?
ML Premium is a set of recurring and ad hock publications that span most of the investment universe and are very helpful in making strategic or tactical investment decisions
It consists of 9 intersecting key top down parts
Views on Countries
Views on Sectors
Views on Fund Flow
Key Index driven ideas and topics
Fixed Income Developments
Equity Topics
Commodities
DCM and ECM activity
Macro and Politics Developments
Besides publications, we also have very comprehensive online resources that help on a daily basis in analytical work. Click on a resource name to view examples. Upon subscribing you will have access to all of these resources
Despite this comprehensive top down approach, we also try to maintain a rural or small town view on things (whatever it means). We hire and develop local village workforce to help with our research and we also look for ways to help local communities or small businesses in a bottom up effort.
Country Strategy

This is our flagship global markets strategy publication. It covers 56 Countries, Equities, Macro and Politics, Fixed Income, Fundflow, Index ideas, Commodities.
monthly

Sector Strategy

This publication is similar to monthly but it focuses on sectors. It covers 10 Key Sectors, Equities, Valuations, Fundflow, Index ideas, Commodities
monthly

Country Strategy

This is a weekly version of monthly Country Strategy. Also covering 56 Countries, Equities, Macro and Politics, Fixed Income, Fundflow, Index ideas, Commodities
weekly

Weekly Sector Strategy

This is also a weekly version of a monthly publications focusing on Sectors. Al the same 10 Key Sectors, Equities, Valuations, Fundflow, Index ideas, Commodities are in focus.
weekly

MidLincoln Global Fixed Strategy

Its a publication summarising key developments on global bond markets. It also highlights our top down stance for sovereign risk for DM, GEM and FM countries. It covers 56 Countries, USD Bonds, Local Credit
weekly

MidLincoln Fund Flows and Aggregates for Funds

This is our flagship weekly publication which tracks flows and AUMs for all sorts of funds - country focused, sector focused, equity, fixed income, etc. It covers 80000 Funds, Weekly Fund Flows, Most Popular Fund Ideas, Key News and provides Analisys
weekly

ML GEMs Equity Model Porfolio

This is a publication summarizing updates, rebalancing and composition of MidLincoln portfolio of to5 5 longs and top 5 shorts for each country in our coverage of top GEM countries.
weekly

MidLincoln Index Atlas

This is our indexing product, focusing on Index assets wrapped into Indexes. It covers over 6000 Indexes, looks for Key Index Ideas, provides News and Analisys
weekly

MidLincoln Commodities Weekly

Its a publication summarising strategy in softs, energy and metals commodities markets. It covers 60 Key Commodities, looks at Trends, uses plenty of Charts, provides News and Analysis
weekly

Notes from Midwest

Notes from Midwest is Weekly or ad hock strategy publication which reflects on key developments in our markets or highlight our views or strategic ideas. Frequently looks at politics
weekly or ad hock

Weekly IPOs

Its a weekly Publication Highlighting All Upcoming IPOs provides News and Analysis
weekly

Datamine for Quants

Its a weekly publication which is aiding to mine for stock/bond ideas. It is also a foundation for Quants Investment Strategies
weekly

Weekly Quant Top Picks

Its a publication discussing our quants model and selects top Long/Short Ideas from 56 Countries , 10 Sectors or selects OW/UW from 6000 Indexes
weekly

Politics Weekly

Looks at 56 Countries, 17 Geopolitical Unions, Econ/Politics News, Analysis, Macro
weekly

MidLincoln Chart Art

MidLincoln Chart Art is a weekly publication exhibiting art quality market charts highlighting ideas on markets in economics or in politics that will affect the direction of various trades
weekly

MidLincoln Morning Meeting

ML Morning Meeting is our daily GEM strategy publication which is a logistical central point for navigating around ML products, views and ideas. It covers 56 Countries, Equities, Macro and Politics, Fixed Income, Fundflow, Index ideas and Commodities
daily
Ready to Subscribe?
The charge for MidLincoln Research Premium Subscription is $10,000pa billed annually.
Here you can subscribe to Premium Product online.
You can pay via bank payment.. Ask us to bill you with an invoice and we will supply you with bank details to pay for subscription via bank transfer
Download
ML Presentation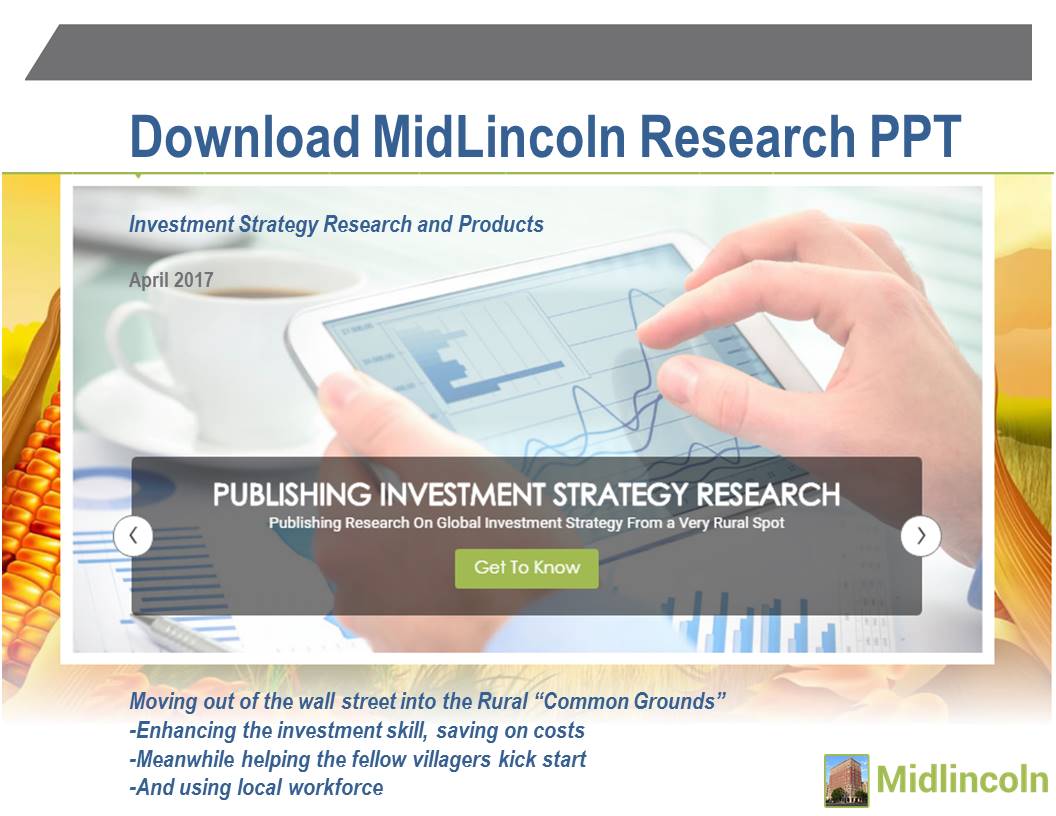 Get to know rural tunes .
Get Invoice and Subscribe to Premium Strategy Product